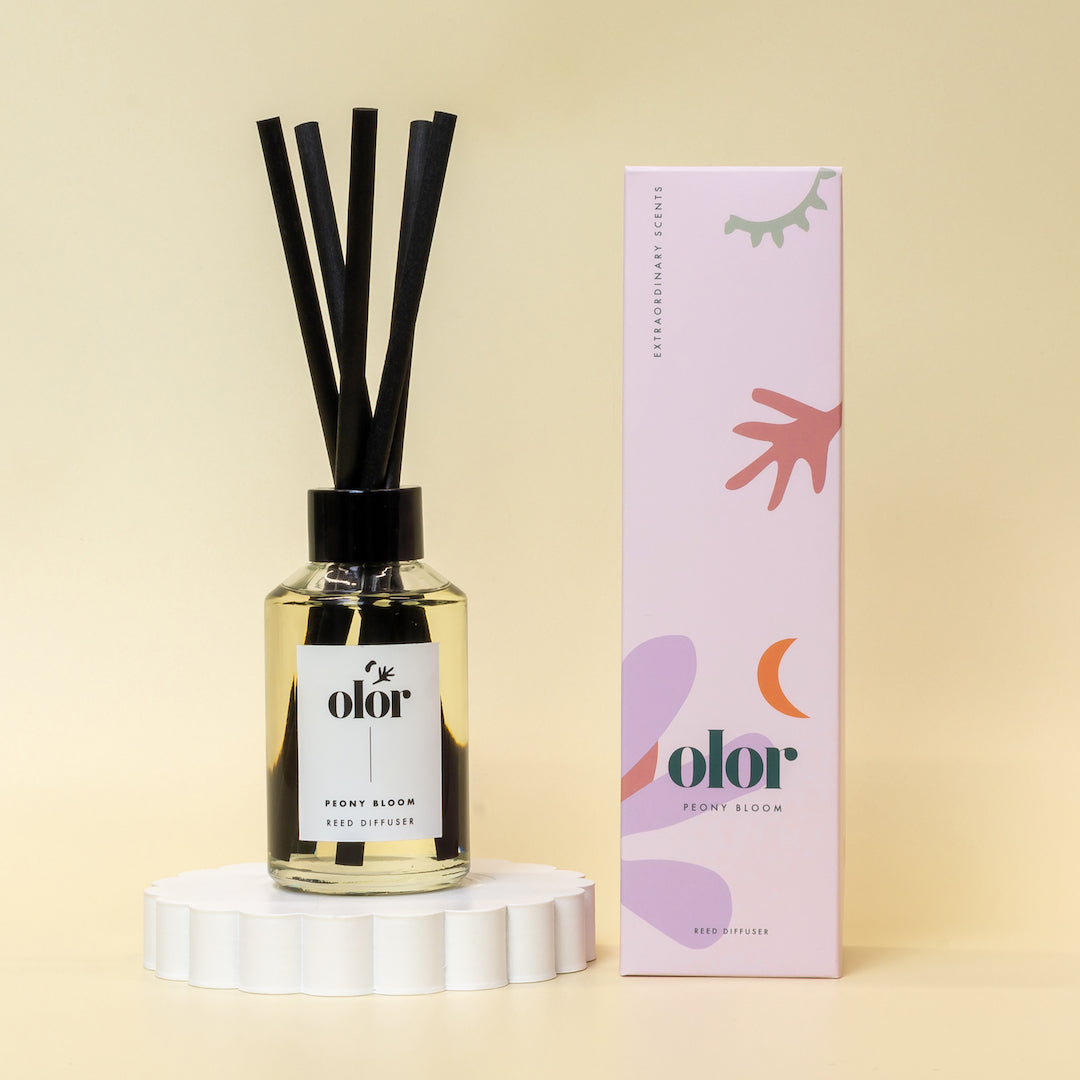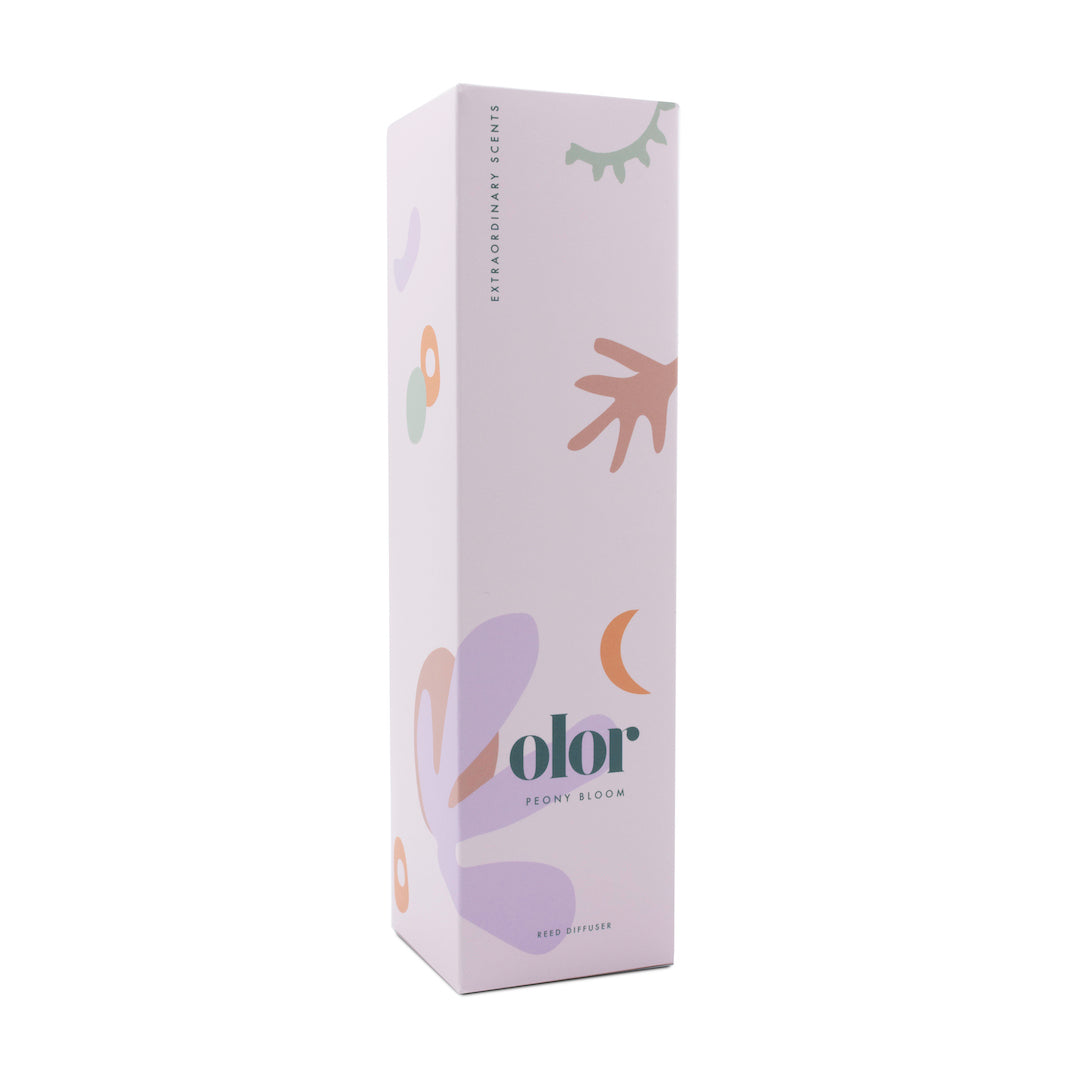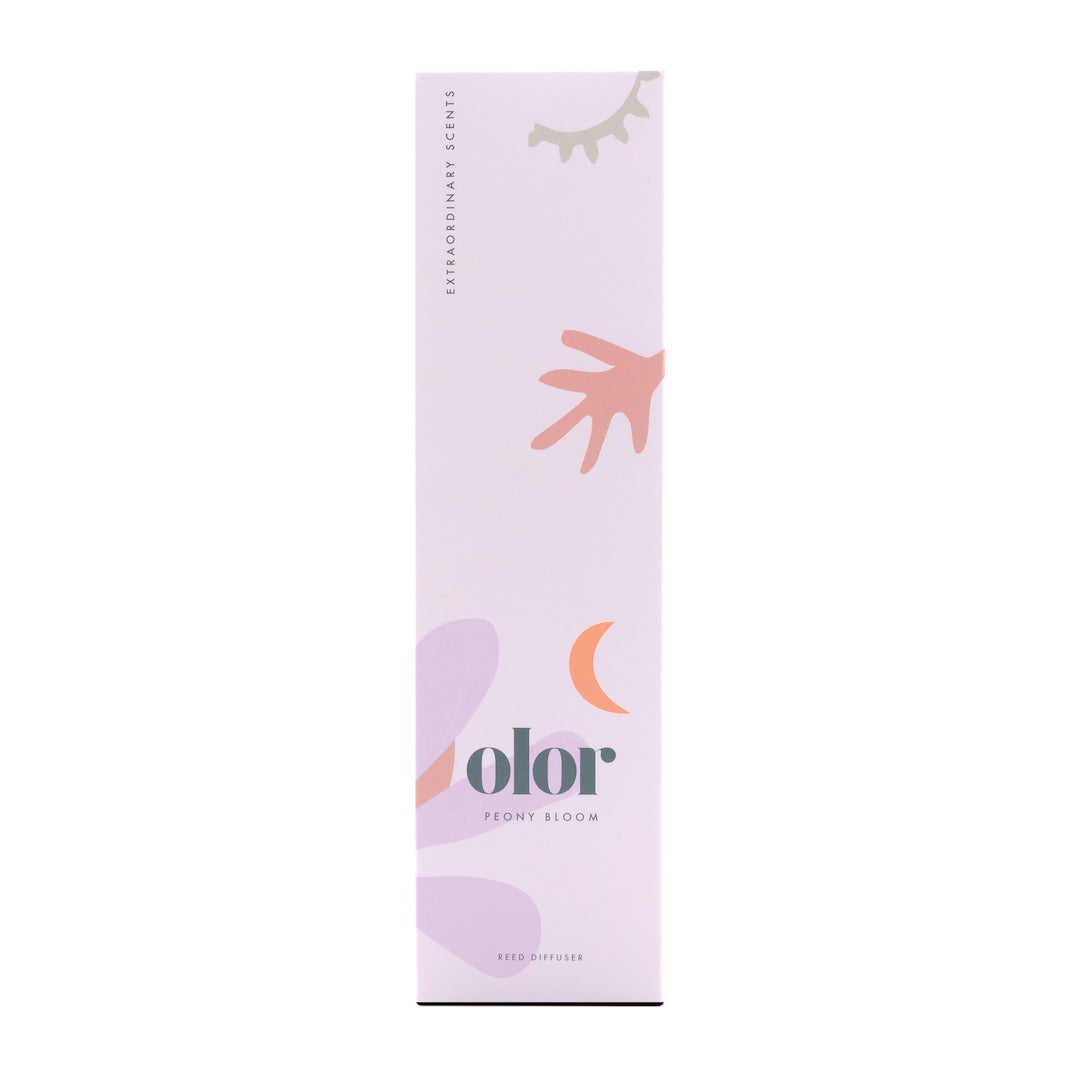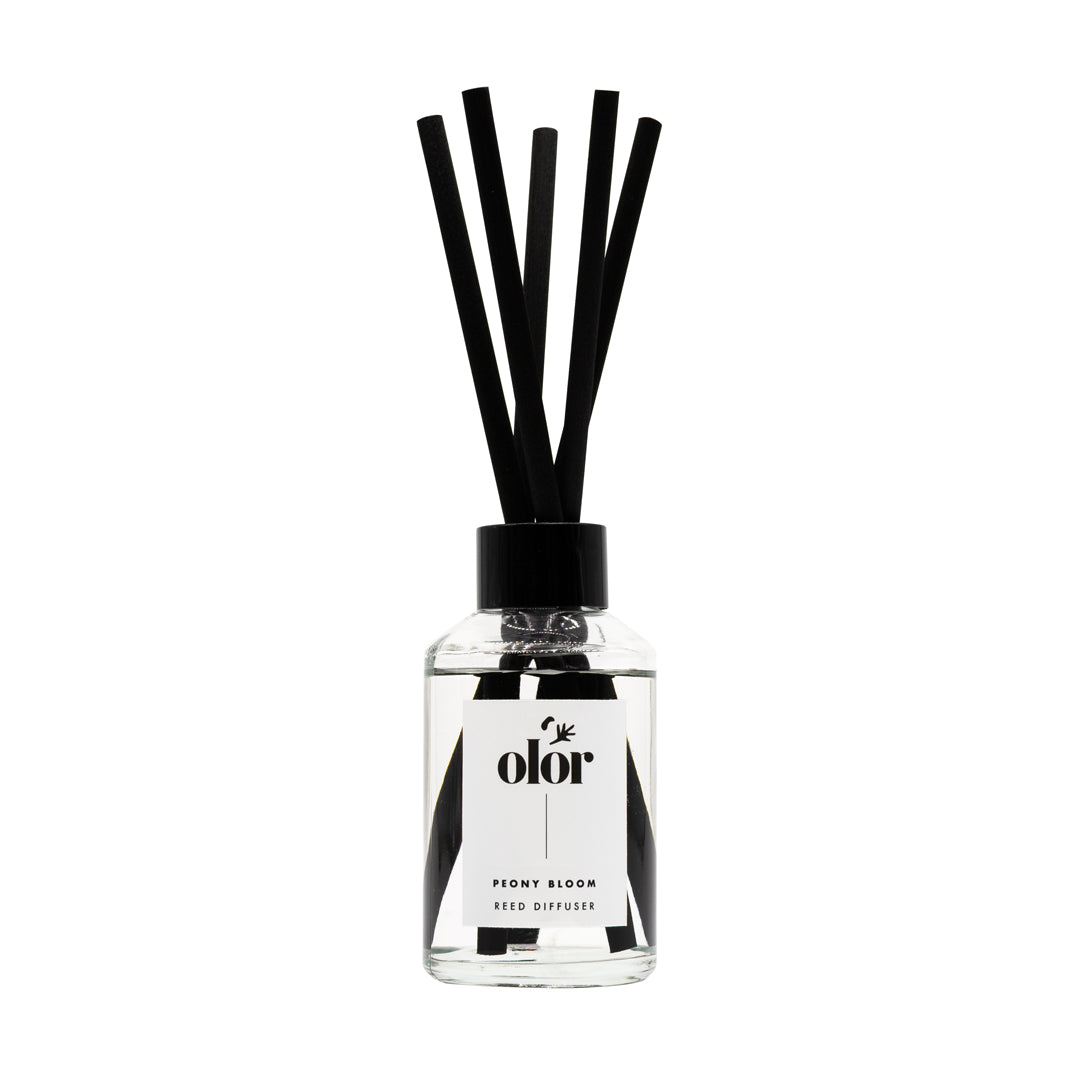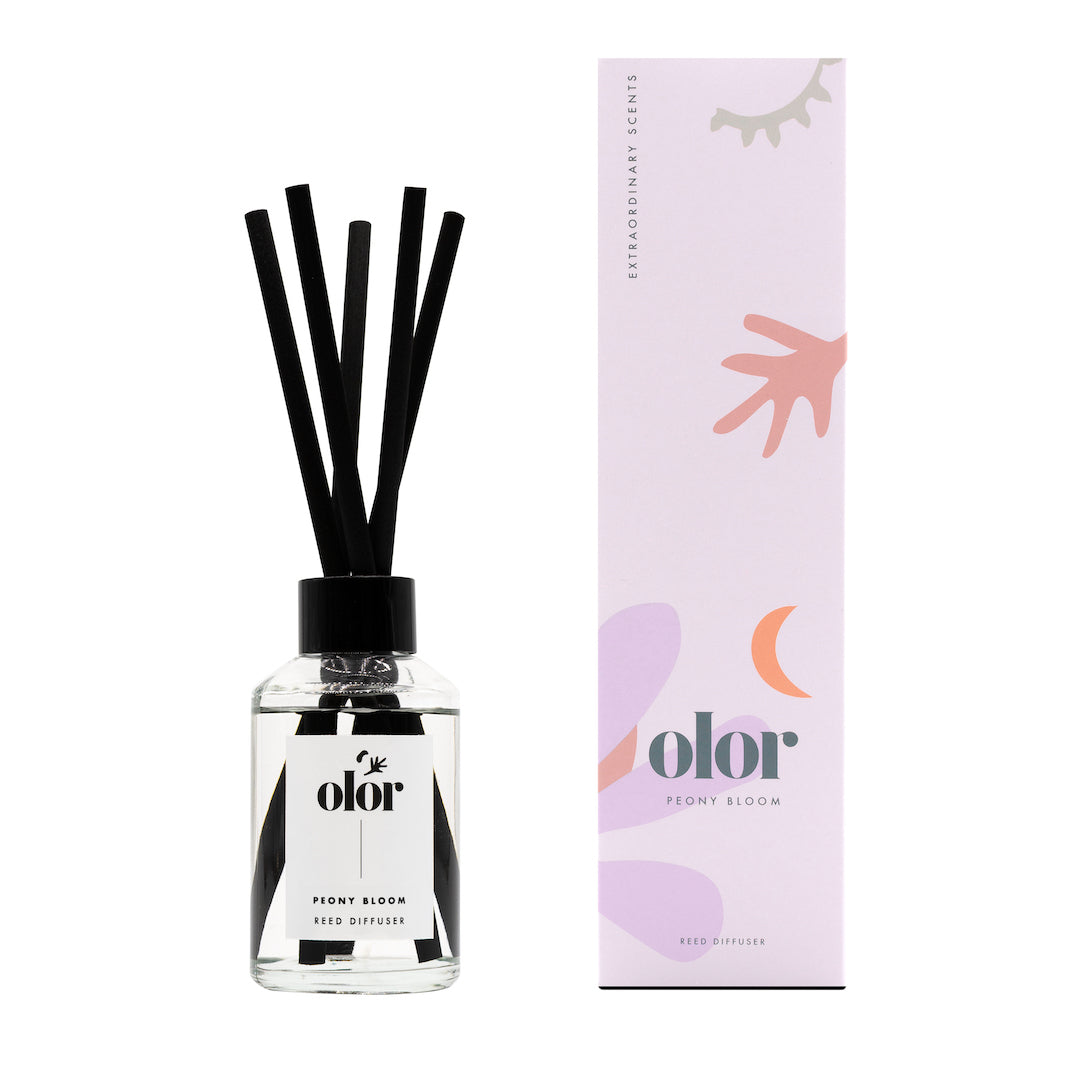 Peony Bloom Diffuser
Sale price

£38.00
Regular price
(/)
Free UK shipping on all orders over £30
---
Evoke the heady feeling of mid-summer, with top floral notes of peony blossom, juicy red apples, rose, gillyflower and jasmine. Leading to a base of patchouli, honey and amber creating a luxurious fragrance of freshly cut flowers.
Last for approx 2-4 months.
Included
120ml diffuser
5 extra thick fibre reeds
About The Reed Diffuser

Introducing our luxurious hand-poured reed diffuser, beautifully presented in a sleek and design-led glass bottle. With 5 extra thick reeds, this diffuser not only adds an elegant touch to your home decor but also ensures a generous release of fragrance. Perfectly designed to fit seamlessly into your home or workspace without occupying excessive space, the shorter reeds provide a compact solution while still emitting a captivating scent. Our reeds offer a low maintenance and flameless way to infuse a room with delightful fragrance that lasts throughout the day. No need to rotate the reeds - they provide a continuous scent flow. However, if you desire an extra burst of fragrance, you can choose to flip them at your convenience.

Experience the perfect blend of style and scent with our luxury reed diffuser, enhancing your space with effortless sophistication and long-lasting aroma.
MEDIUM FRAGRANCE

Top Note:
Immerse yourself in the heady feeling of mid-summer with the enchanting top floral notes of peony blossom. The fragrance opens with the delicate allure of peony, accompanied by the luscious sweetness of juicy red apples. The romantic essence of rose, gillyflower, and jasmine intertwines with the peony, creating a captivating and blooming bouquet of scents. These top notes evoke the vibrant and aromatic atmosphere of freshly cut flowers in full bloom.

Middle Note:
As the fragrance develops, a captivating and luxurious heart note emerges. The floral symphony of peony blossom continues to enchant, enhanced by the presence of other floral notes. The delicate sweetness of rose, the spicy allure of gillyflower, and the intoxicating aroma of jasmine blend harmoniously, creating a captivating and complex middle note. This note evokes the feeling of being surrounded by a garden of blooming flowers, enveloping you in a sense of beauty and elegance.

Base Note:
The fragrance concludes with a luxurious base note that enhances the floral experience. The earthy and sensual notes of patchouli provide a grounding element, while the warm and golden accords of honey and amber add depth and richness to the composition. The base note envelops the fragrance like a luxurious embrace, creating a lasting impression reminiscent of freshly cut flowers on a warm summer day.
Open your OLOR Reed Diffuser:

Carefully unscrew the cap and remove the inner plug.

Prepare for Diffuser:

Screw the cap back onto the bottle and insert the reeds

Allow Time to Fill the Room:

The reeds will begin drawing up the fragrance, diffusing it into the air.
Give it 48 hours for the fragrance to fill the room with scent.

Adjusting the Intensity:

Use 4-5 reeds for a stronger fragrance or 2-3 reeds for a more subtle scent.

Handle with Care:

Remember to wash your hands after handling the reeds.

Top Tips for Optimal Performance of Your OLOR Reed Diffusers

Perfect Placement: Experiment with different areas in your space to find the ideal spot for your reed diffuser. Opt for areas with good airflow, such as near windows or fans, to ensure maximum scent dispersion.
Combat Noseblindness: If you find yourself no longer detecting the fragrance from your reed diffuser, try moving it to a different room or closing the door for a while. This helps reset your olfactory senses, allowing you to experience the scent anew.
Maintenance Matters: Regularly wipe the reeds with a clean cloth or paper towel every few weeks to remove any dust or debris. This helps maintain optimal scent diffusion and keeps your reed diffuser performing at its best.

By following these top tips, you'll be able to revive the delightful scent of your OLOR reed diffusers and create a captivating and fragrant atmosphere in your space. Happy diffusing!
Design-led luxury reed diffuser infused with extraordinary fragrance
Hand-poured, hand-finished, and hand-packed in Derbyshire, England
Fully recyclable packaging, printed by carbon-neutral printers on fsc-approved card
Our Eco-friendly diffuser is made from a renewable source, non toxic and has a low carbon footprint.
Crafted from the finest ingredients
Paraben-free fragrance manufactured in the UK
Standard delivery approx 2-5 working days is FREE on orders over £30 (£3.99 for orders £29 and under)
We send all parcels via Royal Mail on a 48hr tracked service.
All parcels will come well packaged to avoid damage.
For more information about our delivery service please take a look at our FAQ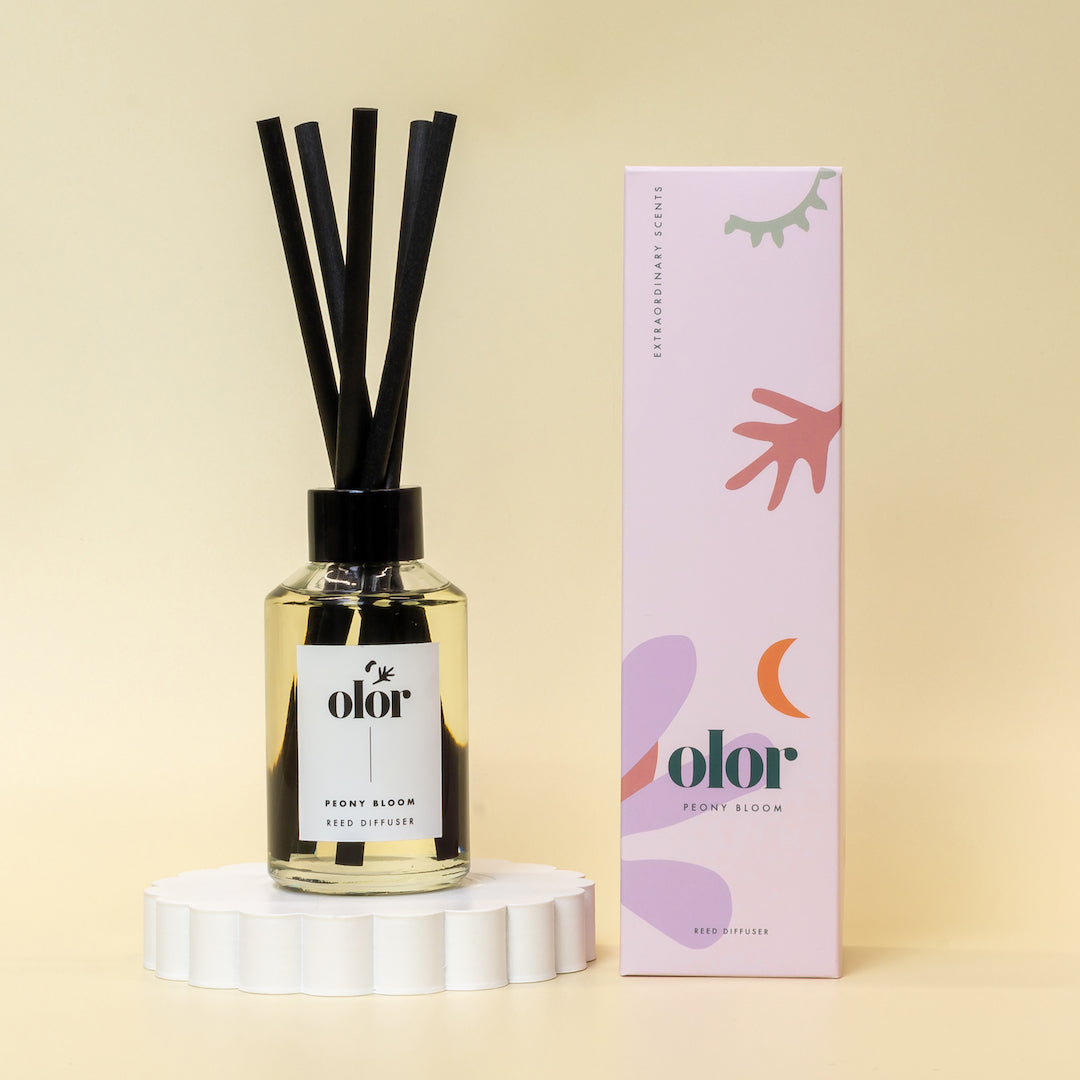 Peony Bloom Diffuser
Sale price

£38.00
Regular price
Choose options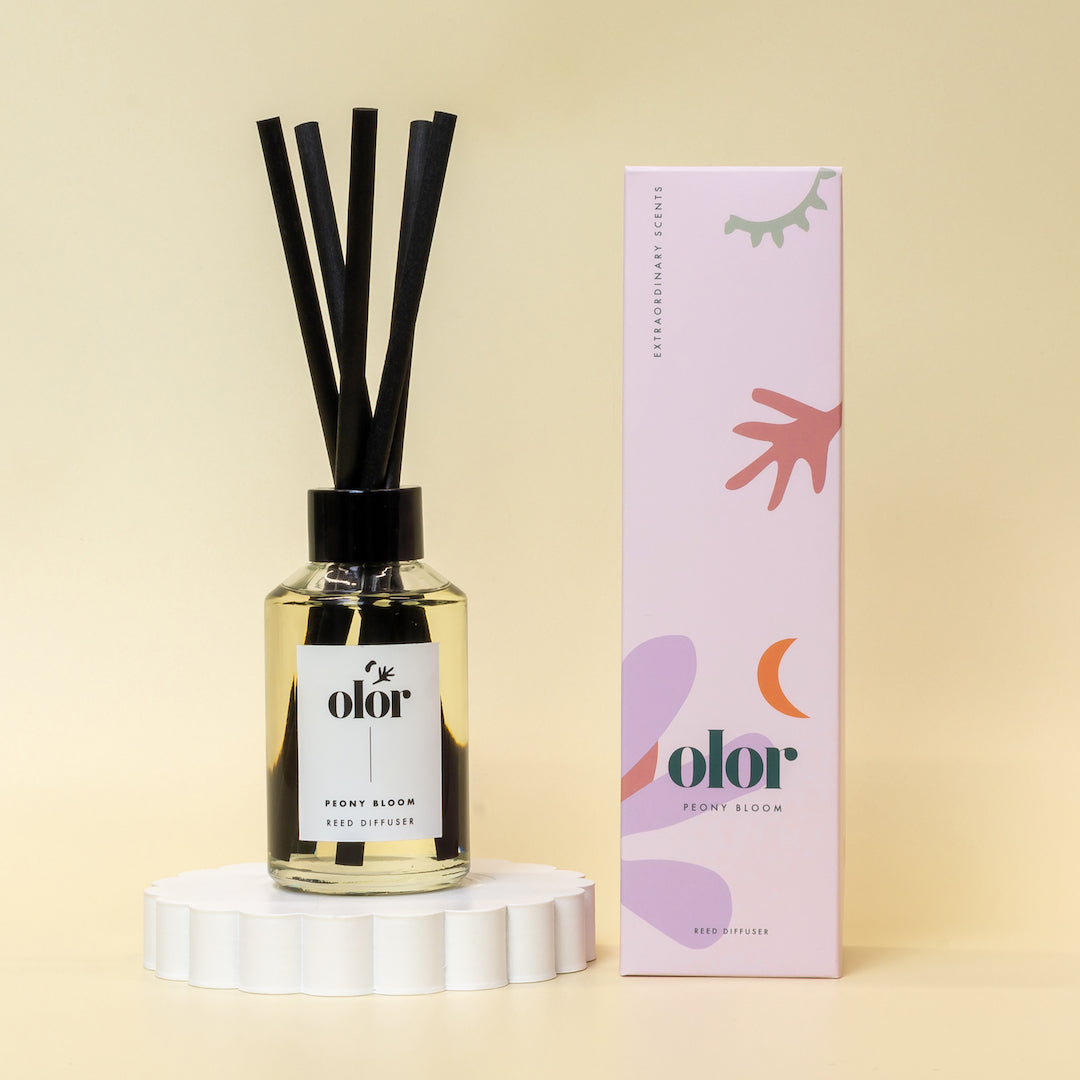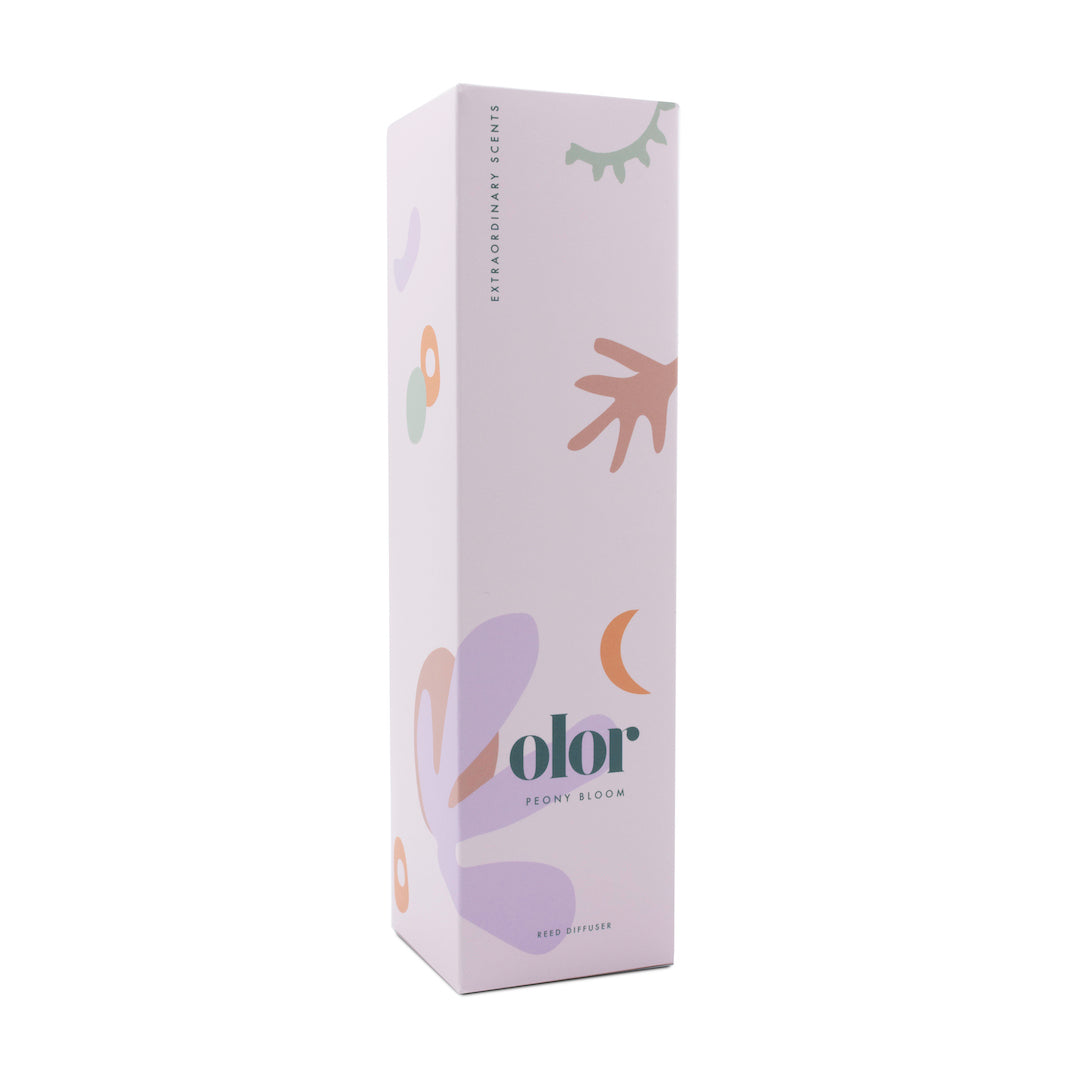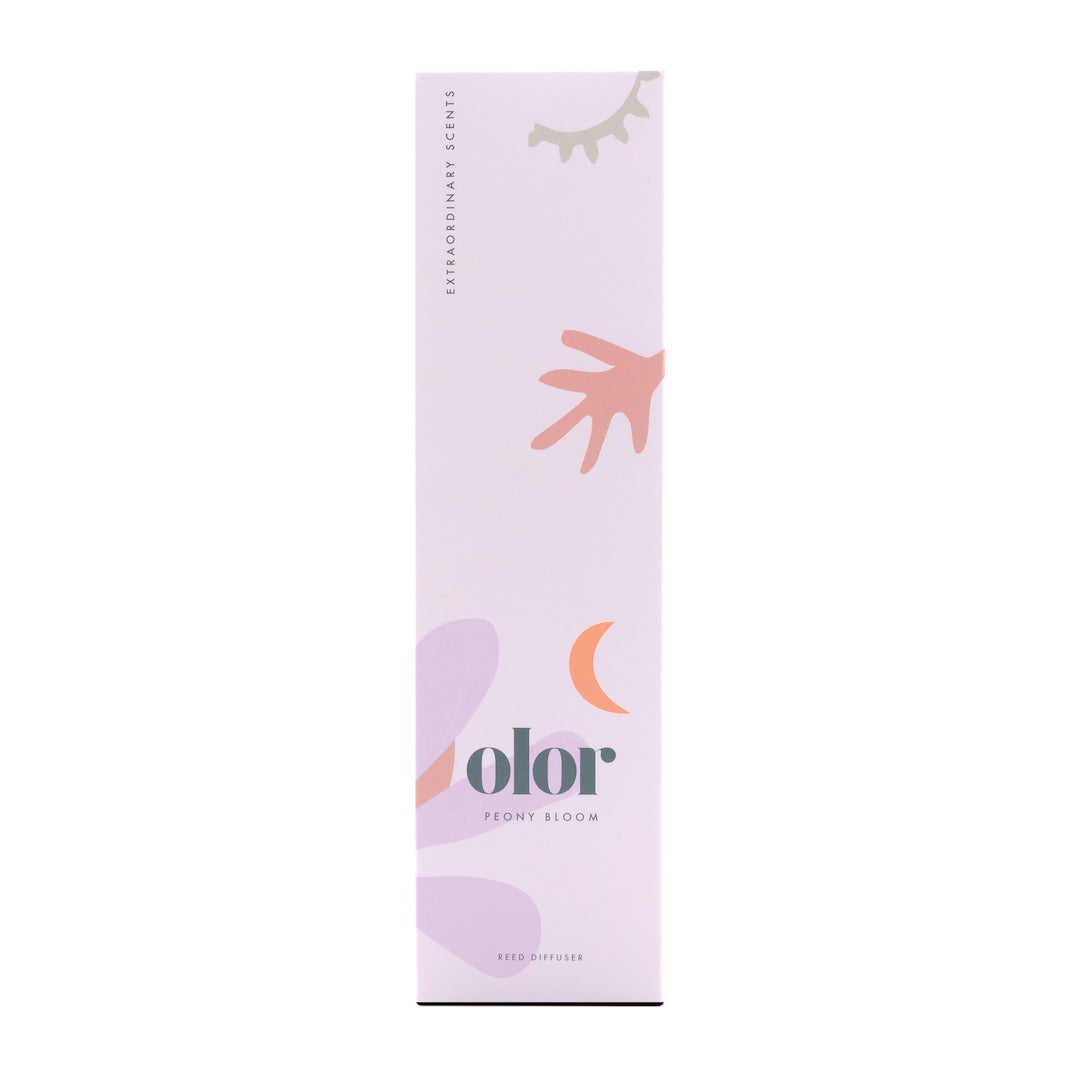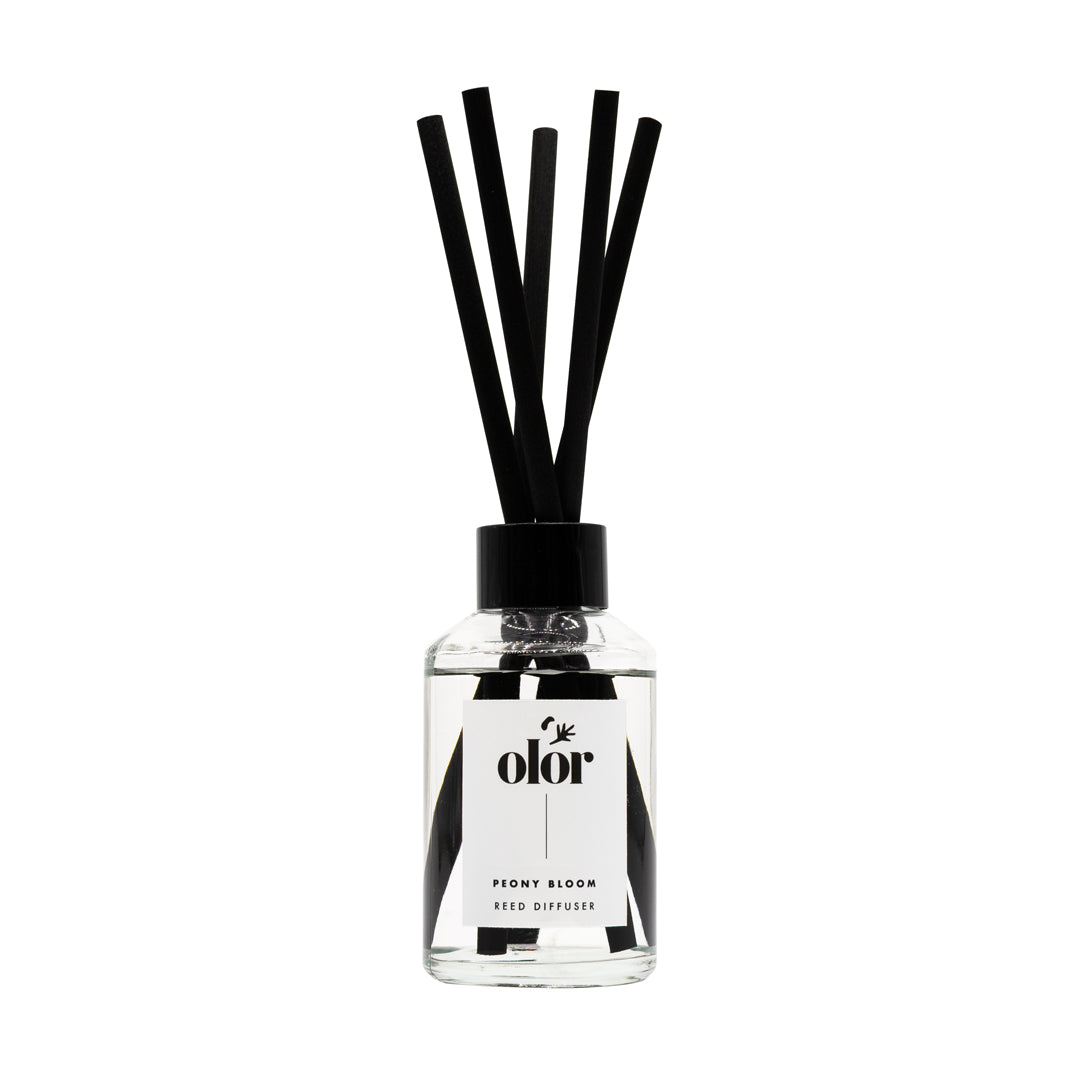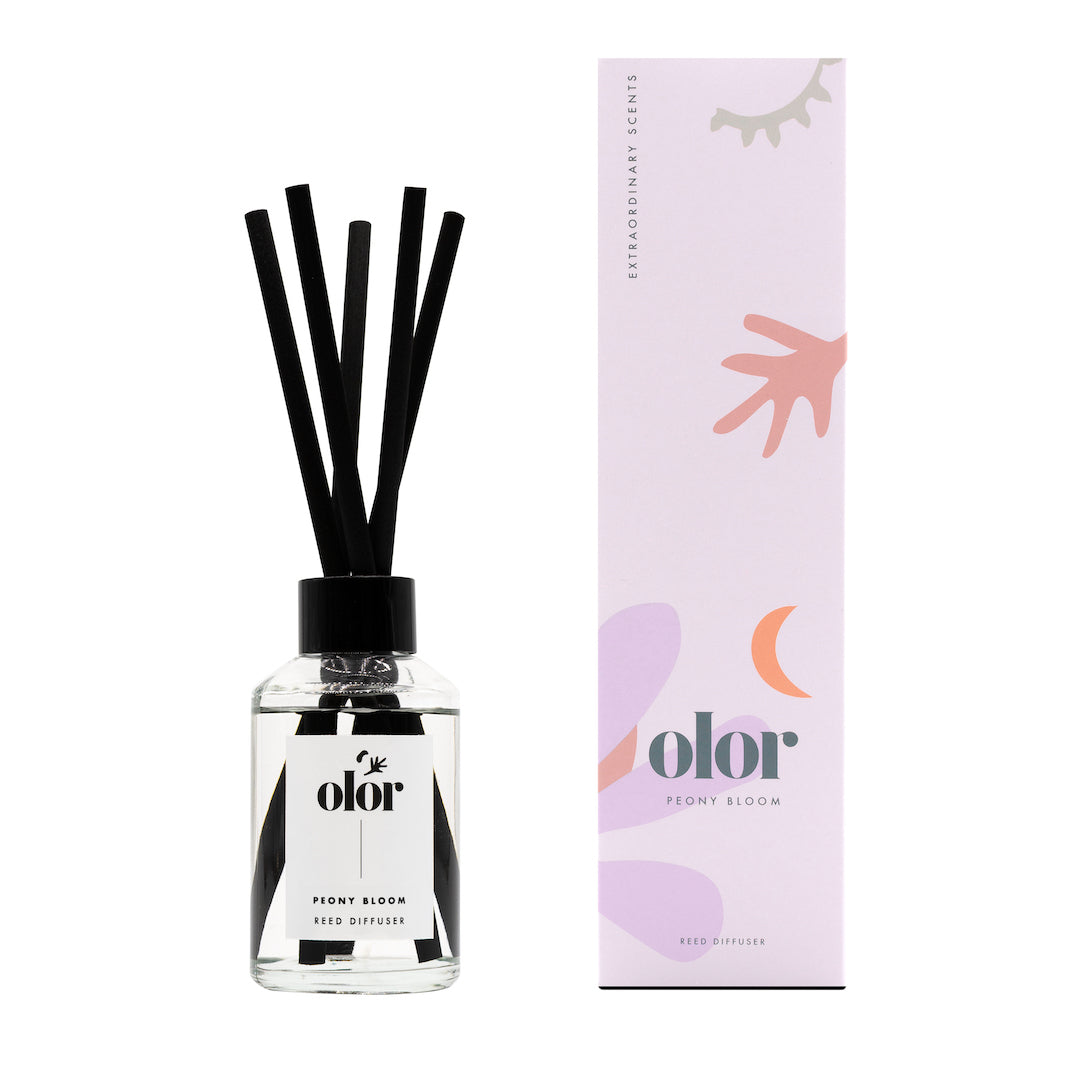 Very nice smell and smooth.