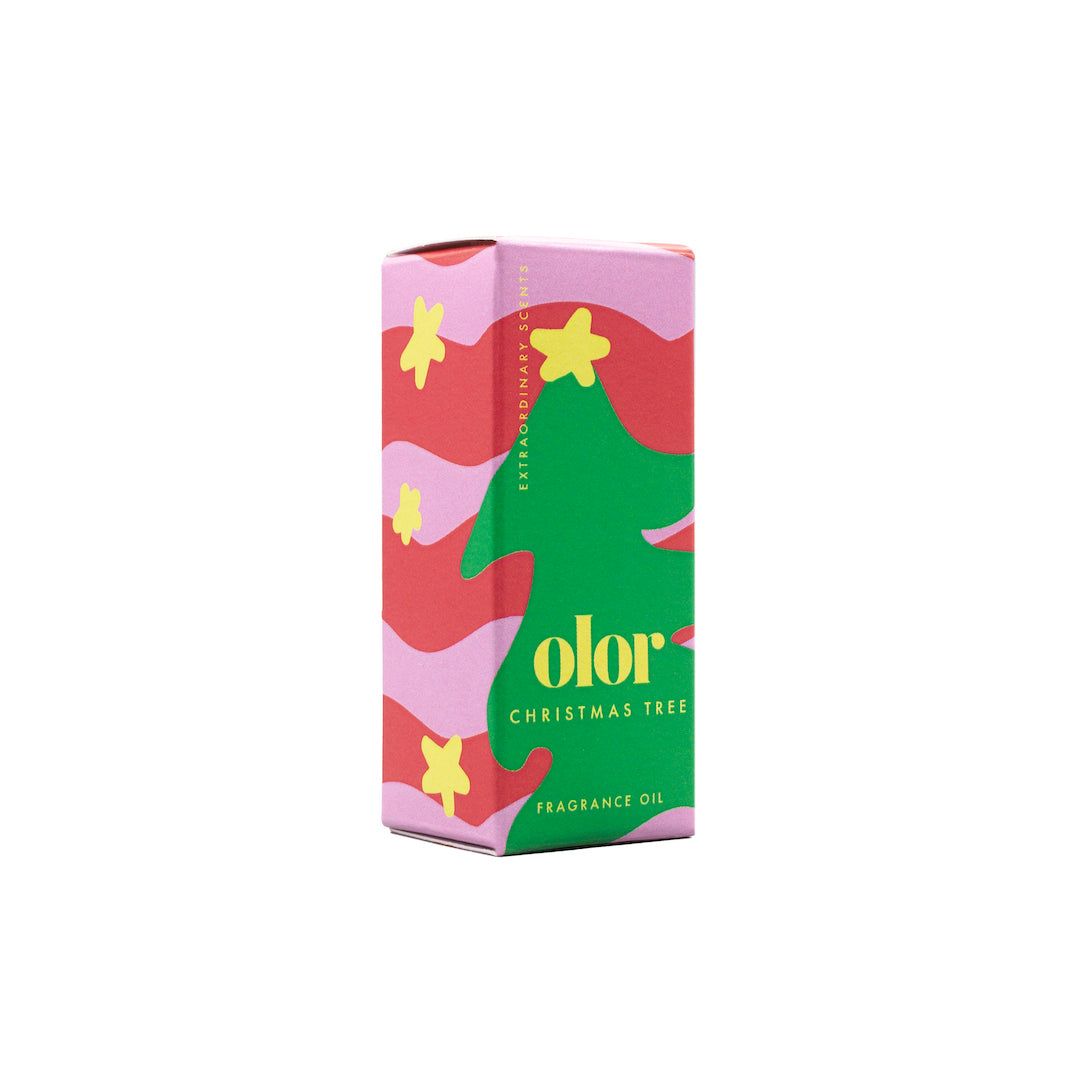 Christmas Tree Fragrance Oil
Sale price

£14.00
Regular price
(/)
Free UK shipping on all orders over £30
---
Discover a winter woodland of Siberian Christmas Trees with top notes of Eucalyptus, fresh green leaves resting on a woody base of cedarwood, sandalwood and musk.
10ml
About Our Fragrance Oils

Indulge your senses and transform your environment with OLOR Fragrance Oil. Enjoy the captivating scents that will uplift and invigorate your space.

Our oils are specifically created for use in electric aroma mist diffusers and are to be diluted with water only.

Infuse your home or work space in minutes with our incredible fragrances. Simply add 6-8 drops of OLOR Fragrance Oil to approximately 100ml of water in your aroma mist diffuser, and let the magic unfold.

Our oils are concentrated, so a little goes a long way. Experience the long-lasting release of your favourite OLOR fragrance with just a few drops.

Transform your space effortlessly with OLOR Fragrance Oil. Delight in the long-lasting mist that emanates your chosen OLOR scent, ensuring a joyful and refreshing ambiance wherever you are.
STRONG FRAGRANCE

Top Note:
Embark on a journey through a serene winter woodland of Siberian Christmas Trees with the invigorating top notes of Eucalyptus and fresh green leaves. The crisp and aromatic Eucalyptus immediately captures the essence of a cold, refreshing winter morning. The green leaves add a touch of natural vibrancy, evoking the image of a pristine forest blanketed in snow. These top notes set the stage for an immersive and revitalizing experience.

Middle Note:
As the fragrance unfolds, you'll find yourself enveloped by the heart of this winter wonderland. A harmonious blend of Eucalyptus and fresh green leaves continues to invigorate your senses. This middle note captures the essence of the winter woods, where the scent of evergreen foliage fills the air. It combines the cool, minty notes of Eucalyptus with the earthy and green nuances of the leaves, creating an atmosphere that is both refreshing and calming.

Base Note:
The fragrance concludes with a woody base of cedarwood, sandalwood, and musk. These base notes anchor the scent in the heart of the winter forest, adding warmth and depth to the composition. Cedarwood provides a sturdy and comforting foundation, while sandalwood infuses a creamy richness. Musk adds a touch of sensuality, enhancing the overall olfactory experience. The base note leaves a lasting impression of the tranquil winter woods, making it a perfect scent for the season.
Our oils are specially designed for use in electric aroma mist diffusers and are to be diluted with water only. Follow these simple instructions for a blissful aromatic experience:

Fill your aroma diffuser with approximately 100ml of water.
Add 6-8 drops of OLOR Fragrance Oil to the water.
Close the aroma diffuser securely.
Turn on the diffuser and let the magic begin!

As the fragrance oil mixes with the water, a long-lasting mist will be released, filling your space with the enchanting aroma of your favorite OLOR fragrance. Remember, our oils are highly concentrated, so a little goes a long way. Start with a conservative amount, and add more if desired.

Important: Please note that OLOR Fragrance Oils are not intended for use with oil burners. Stick to using them solely with electric aroma mist diffusers for optimal results.
Extraordinary fragrance
Hand-poured, hand-finished, and hand-packed in Derbyshire, England
Fully recyclable outer packaging, printed by carbon-neutral printers on fsc-approved card
Crafted from the finest ingredients
Paraben-free fragrance manufactured in the UK
Standard delivery approx 2-5 working days is FREE on orders over £30 (£3.99 for orders £29 and under)
We send all parcels via Royal Mail on a 48hr tracked service.
All parcels will come well packaged to avoid damage.
For more information about our delivery service please take at our FAQ
Christmas Tree Fragrance Oil
Sale price

£14.00
Regular price
Choose options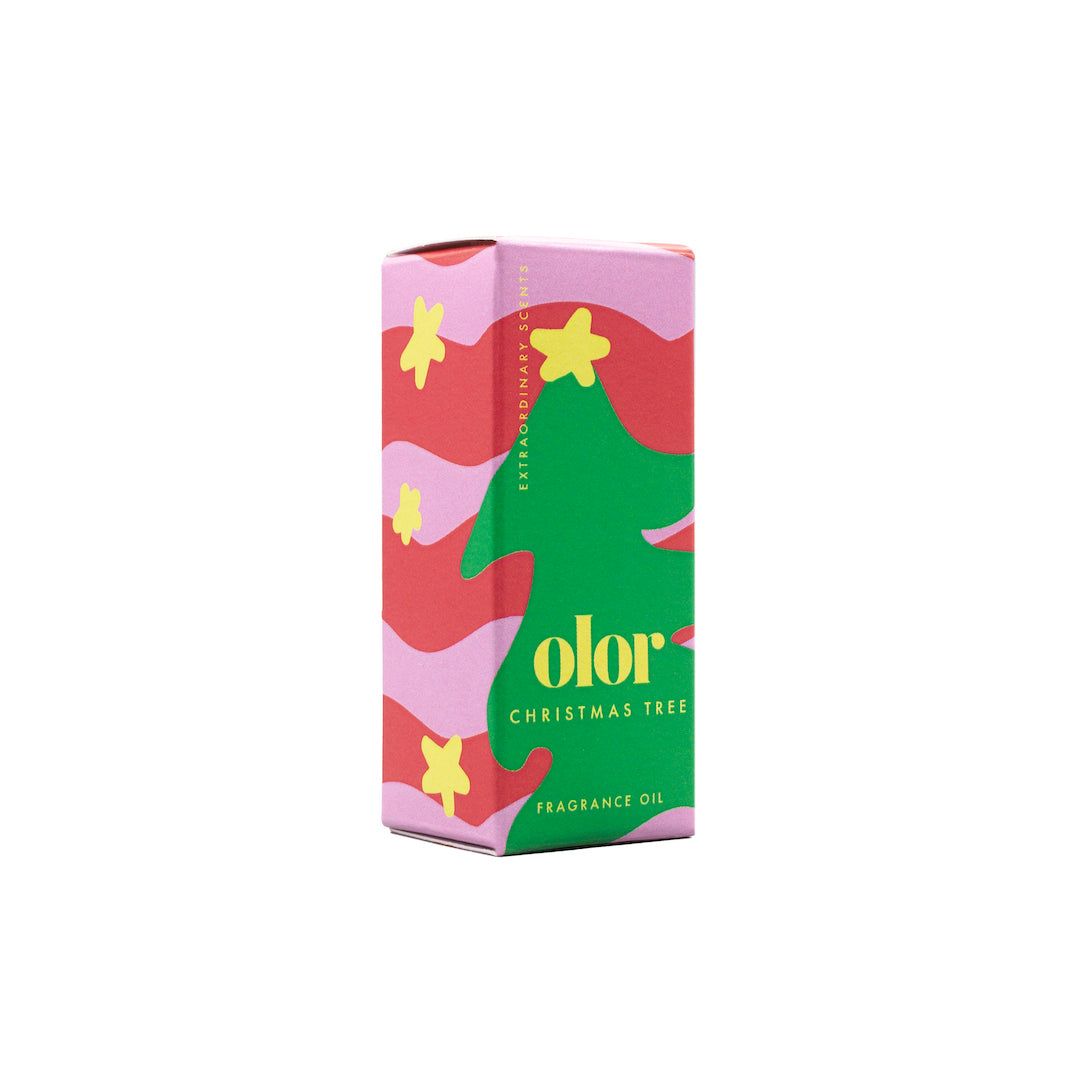 Lovely product
I bought the whole Christmas Tree range. They are all lovely. The scent is so real and fresh, just like the real thing. I shall definitely purchase again.
Gorgeous Scent - Lovely Company!
Just about to refill my diffuser with this, amazing winter smell - I'd say Christmas but I'll be using it well into the new year! Would make a great gift too as the packaging is gorgeous!
My room smells of a real Christmas tree!
The smell of my Christmas tree oil is quite amazing! I use it in an oil burner, I place a few drops into a scent free wax and the smell is released and lasts most of the day! The scent is as good as other well know very expensive products. I love it!
is lovely
actually it could even be a little
stronger .
Amazing scent
Long lasting gorgeous smell. Love this!